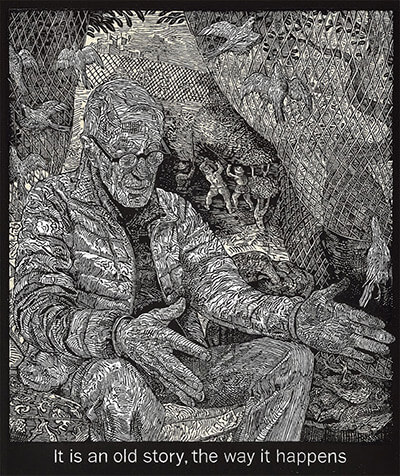 "It's an old story, the way it happens," woodcut print
Printing Poetry and Carving Life Out of a dark world in which death seems commonplace, a spark of light flashes through the intensely powerful and personal artworks by Alice Leora Briggs. Fine Art Today recently caught up with the artist, who graciously revealed parts of her artistic visions and personal journeys.

Hindsight is 20/20, and thank goodness Alice Leora Briggs failed at just about every creative expression she tried, be that music, dance, or theater. Why? Because those failures led her to the visual arts, morespecifically printmaking and drawing, two mediums in which the artist has become nearly unrivaled in skill and personal expression.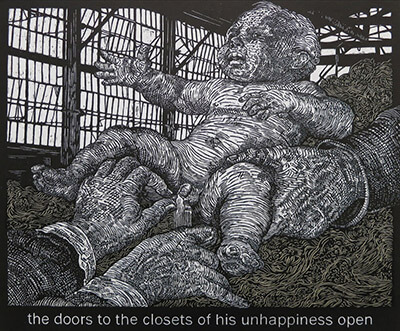 "the doors to the closets of his unhappiness open," woodcut print
"Apparently, I like to cut things" she asserts. "Whether I am making a sgraffito drawing or a woodcut, I cut white marks into black fields. Each slash throws a spark into dark territory; each mark is a scar. I have a manic duty to botch up surfaces. Each of my images is an accumulation of thousands of marks that chart how my eyes jerk and scan through spaces and whatever these spaces contain. For me, poetry comes from mortal substance — the physical experience of my body moving through the world and an acute awareness that my presence in the world is temporary."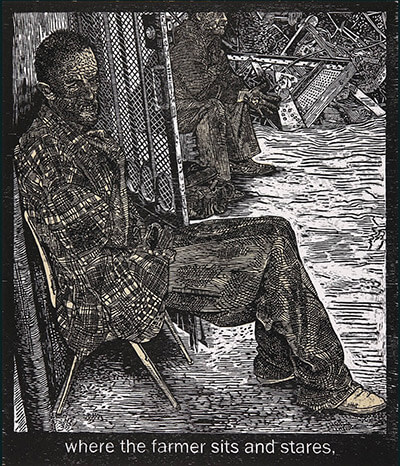 "where the farmer sits and stares," woodcut print
Indeed, the triumph over personal tragedy often reveals the strength of one's resolve, and Briggs's art has "evolved as an effort to comprehend the black hole that replaced a family member I had not yet learned to distinguish from myself," she said.

Buzzing about her studio in strife-torn Juárez, Mexico, Briggs is no stranger to death and chaos, and it is an environment that has proven to be a point of clarity for the artist. She writes, "I am drawn to places where death is familiar. I do not romanticize such circumstances; they simple clarify what matters to me."

Through exquisite detail and powerful, expressive marks, prints such as "where nothing, when it happens, is never terrible enough" remind us all of that which we might care not to see, or admit. Recalling the controversial painting "Dead Christ" by the Renaissance artist Andrea Mantegna, a deceased body, highly foreshortened, lies on a dinner table. All around, individuals drink their beverages and sip their tea without acknowledging the cadaver. Beneath the composition are the words, "where nothing, when it happens, is never terrible enough." The work is unsettling, but masterfully composed and executed.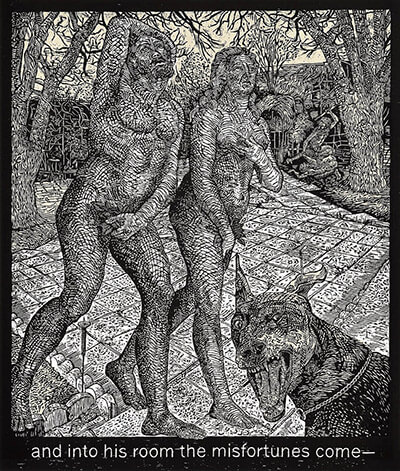 "and into his room the misfortunes come-," woodcut print
Of her artistic goals, Briggs writes, "I am trying to find something beautiful, even though it is clear to all of us that we often have to look through a dense thicket of atrocities to see it. I have grown to love even this dense undergrowth that blackens our view."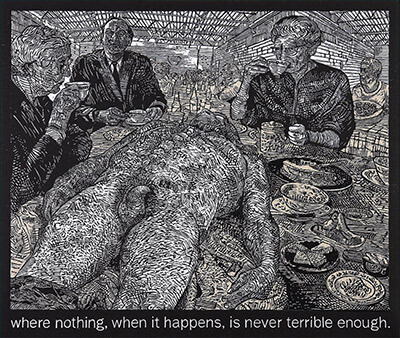 "where nothing, when it happens, is never terrible enough," woodcut print
The future is bright for Briggs, who recently began an ambitious five-year project, details of which are tantalizingly vague. More broadly speaking, Briggs will "continue to move forward with visual narratives in printmaking, including a long-anticipated return to engraving and drypoint." Briggs was also recently awarded a 2016 Tulsa Artists Fellowship, where she will work alongside 12 artists from around the United States who have also been selected to participate in an exciting artist-in-residence program sponsored by the George Kaiser Family Foundation.
This article by Andrew Webster Reporting Editor was featured in Fine Art Today
a weekly e-newsletter from Fine Art Connoisseur magazine.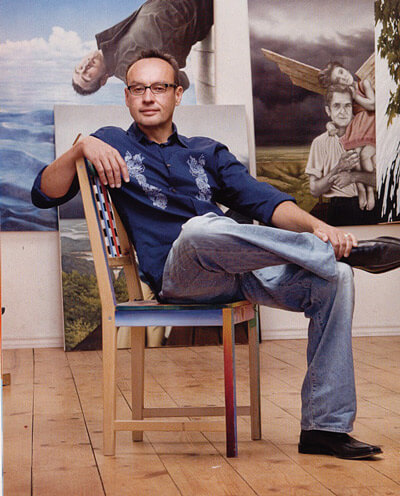 Jorge Santos paintings are a profound display of picture making for the sheer purposes of formulating an all but transparent narrative via highly technical draftsmanship and paint handling. As a self-taught artist, the evolutionary process of his work is often subject to reconfiguration, repositioning, and refinement until the grand conclusion is met. Narrative is of such importance that even compositional concerns may be subordinate to the inclusion of a necessary motif in the storyline.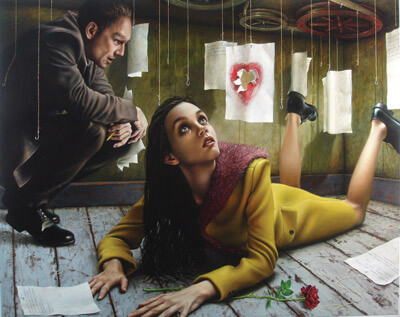 One may recall the Latin term "dues ex machina," which is a literary device used to resolve a troubled plot. In English, this translates to "God out of the machine." It refers to an unexpected, artificial, or improbable character, device, or event introduced suddenly in a work of fiction to untangle a plot. For instance, consider the artist's 2012 work entitled Maitre D where a fork between one of the dinner participant's toes is tied by string to a wine bottle in the foreground thus preventing it from crashing to the floor. How or why did this happen? This whimsical instance is the result of a mid-production decision to reposition compositional elements in order to resolve the foreground in a more provocative way without having to repaint the bottle.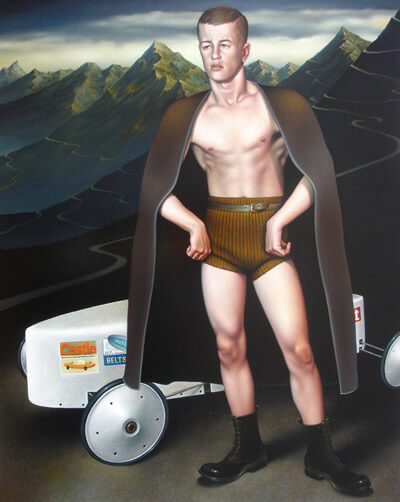 This almost humorous result often surfaces in a Santos work, as for the artist, there are little rules he truly feels the need to play by. Paintings for the artist exist as a cocktail of source materials, from still life to imagery of the mind's eye. They are not pre-assembled sets such as that of the Realist painter, and any "photo realist" instances are purely the result of the artist's skill to portray a likeness. In fact, the ambient lighting and elongated figures are more stylized than authentic, echoing the Italian Mannerist painters of the 16th century.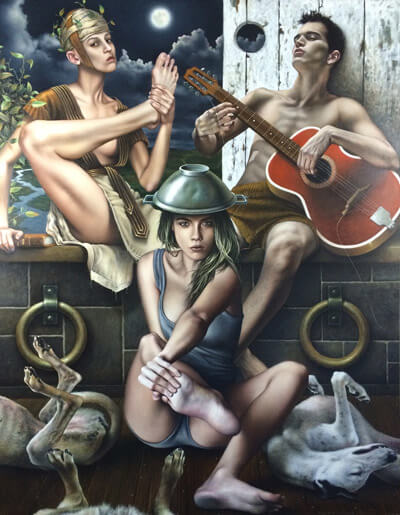 Though highly refined and emotive, a Santos painting may have a poetic title but this is not a necessity, it's just by way of the artist's improvisational nature. He seems to be commenting on pop culture, derives source material from TV, Internet videos, and other mass media but is humble and quite reluctant to be billed as a social critic. In his pictures, settings come off as irrational or precariously balanced, moods are secretive, illusory, and often ambiguous but there is no argument to their blatant allure and charm over the viewer. These complexities may seem to deliberately provoke interpretation but Santos will only entertain his personal opinion that he is simply an image-maker.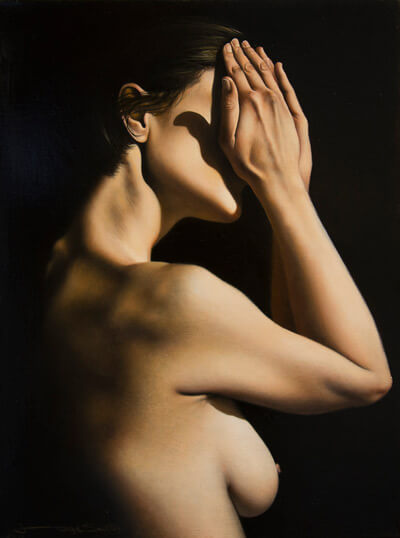 Artists and Arts Contributors Named for 2016 Annual Governor's Awards for Excellence in the Arts
Contact: Loie Fecteau
Tel: 505-827-6397

Santa Fe – Governor Susana Martinez and the New Mexico Arts Commission today announced the eight artists and major contributors to the arts who will be recipients of the 2016 Annual Governor's Awards for Excellence in the Arts.

"Our arts and culture make New Mexico unique, and are very important economic and tourism drivers in our state," said Governor Martinez. "These artists and arts supporters represent the very best New Mexico has to offer. Through the Governor's Arts Awards, we recognize the diverse and amazing talents of these 2016 recipients, and celebrate their dedication and contributions that ensure our arts and culture are accessible to all, and that our creative industries continue to thrive."
The 2016 Governor's Arts Awards ceremonies will be held on Friday, September 23, at 5:15 pm at the St. Francis Auditorium in the New Mexico Museum of Art in Santa Fe. The ceremony is preceded by an afternoon reception and exhibition opening, 3:30 – 4:30 pm, in the Governor's Gallery at the State Capitol. Both the awards ceremony and gallery reception are free and open to the public.

This year marks the 43rd annual celebration of the Governor's Arts Awards, which was established in 1974 to celebrate the extensive role that artists and their work have in New Mexico. A diverse and noteworthy list of painters, weavers, sculptors, dancers, musicians, storytellers, poets, actors, playwrights, and potters have been honored by the Governor's Arts Awards, New Mexico's most prestigious arts awards. Past awardees include: Georgia O'Keeffe, Robert Redford, George R.R. Martin, Maria Martinez, Tony Abeyta, Glenna Goodacre, Tony Hillerman, N. Scott Momaday, Tammy Garcia, and Catherine Oppenheimer. Nominations are accepted from arts groups and interested New Mexicans. All nominations are reviewed by a committee of the New Mexico Arts Commission, which sends its recommendations to the full commission and to the Governor.

Governor Martinez and the New Mexico Arts Commission announce that the awardees for this year's Governor's Awards for Excellence in the Arts are:

Nicholas Herrera of El Rito, Artist, Painting/Sculpture/Mixed Media: Nicholas Herrera is one of the most important folk artists in the United States, who has pioneered a folk art form with his more personal interpretations of traditional bultos and retablos, using wood and recycled metal, including salvaged automobile parts. "These artworks are edgy, comic, satirical and powerful," said nominator Jack Parsons, who received a Governor's Arts Award in 2006. "He is a treasure for our community." A drunk-driving accident and a near-death experience forced Herrera to choose between life and death. "He chose a life of art," said Carmella Padilla, who received a Governor's Arts Award in 2009 and Luis Tapia, who received a Governor's Arts Award in 1996, in a joint statement. Herrera is an old soul with a modern outlook, Padilla and Tapia said. "Even with widespread exposure and acclaim, he has stayed true to his artistic history and his home state, while staying true to himself." Herrera himself has said: "Sometimes, I feel like I should have been born in the 1800s. I've got this feeling of the old days in me, like I'm feeling my ancestors, like I want to live like they did." Tey Marianna Nunn, director and chief curator at the National Hispanic Cultural Center's Art Museum and Visual Arts Program, called Herrera "a trailblazing artist whose works are informed by the Traditional Colonial Santero practice of New Mexico, yet he has developed a style all his own – a style that while rooted in the past, directly addresses contemporary cultural issues." Herrera has been featured on NPR's Weekend Edition, and has received numerous awards, including the 2006 Award of Distinction from the Folk Art Society of America. His art is in the collection of more than 30 museums including the Smithsonian American Art Museum in Washington DC, the Museum of American Folk Art in New York City, and the Museum of International Folk Art in Santa Fe.
Product description:

"Mann Vol. 1" compiles the past seven years of Mann's work chronicling the lush portraits and haunting cityscapes created from his post-graduate work to the current day. The book features introductions by gallery owner John Pence and noted painter Justin "Coro" Kaufmann.

At 384 pages, this massive new omnibus spans hundreds of paintings, each presented with immaculate detail and color reproduction personally overseen by the artist himself. With a focus primarily directed to the work, "Mann Vol. 1" features only ten pages of text, and over twenty paintings reproduced at full size.

"Mann Vol. 1" comes with a dust jacket, weighs over four pounds and features hundreds of paintings. Purchase the book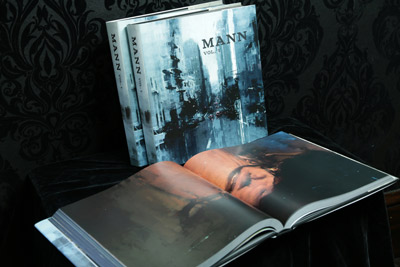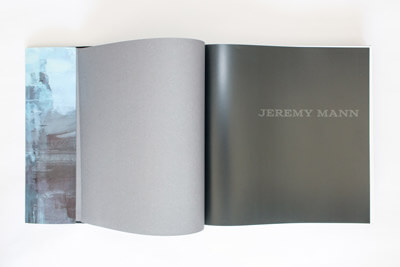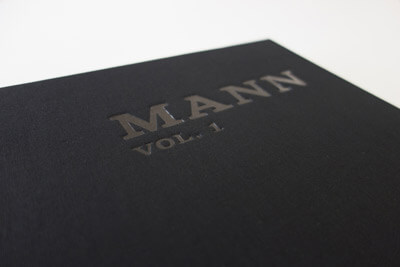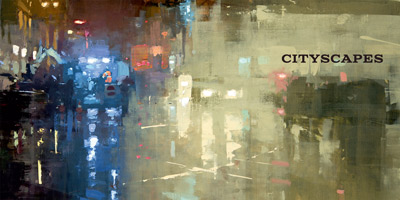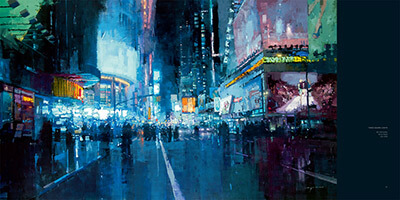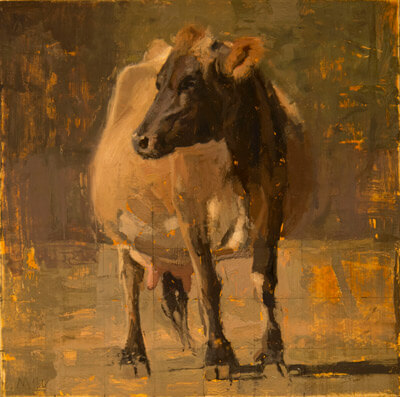 Truth, beauty, and goodness: These are the broad, subjective, and sometimes discounted concepts that form the foundation of Michael Workman's paintings. Workman's landscapes are idyllic; they depict the visual splendor of the American Southwest in colorful vistas, sunlit mountains, and far-reaching fields peppered with cattle. At the same time, his scenes convey a deeper meaning, one that simmers just under the surface, slowly escaping from among the layers of oil paint and intricate brushwork. Workman does not endeavor merely to paint an appealing picture, but also to share the spiritual connection he feels to the land and throughout his own life. "I'm a believer, and I believe there's a purpose behind this existence," he says. "I want people to slow down, to stop and look at how beautiful this world is."

Workman's spirituality is an essential element of his artwork, informing not only his subject matter but also the perspective from which he paints it. He views the artist as the vessel for a higher power, blessed with the ability to reveal the empirical beauty within the land, as well as to harness the spiritual forces that sustain it. Like 19th-century landscape painter George Inness, Workman holds that nature is a manifestation of the divine. As a result, a nature-inspired work of art is something to be felt, not just observed. "Inness was spiritual and also very contemporary for his time," says Workman. "Like Inness, I hope my work communicates that there's something below the surface."

Workman describes himself as a contemporary traditionalist, embracing the historic aesthetics of the western canon while simultaneously infusing his works with elements of abstraction. This juxtaposition of styles highlights Workman's interest in mining contrasts, both on the canvas and in his creative process. These contrasts are, in fact, the hallmark of Workman's oeuvre. They engender a balance, allowing his work to straddle the line between romantic and modern, and between bold and demure, as it engages viewers on visual and emotional levels.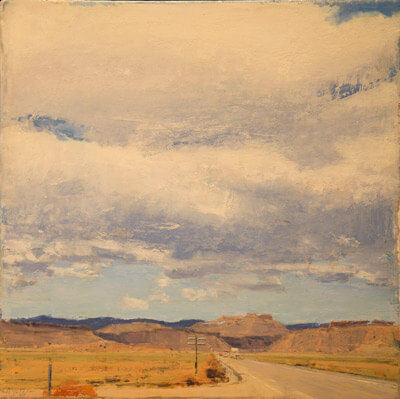 Aesthetic contrasts function as accents in Workman's compositions: a swath of intense pigment amid more understated colors, bright light next to shadow, or a few thickly painted strokes among the smooth, gauzy areas of color. These divergences are subtle in their drama, however, evoking the sense of harmony the artist tries to achieve across his canvases. "One thing that is consistent in art history is the opposition between different ideas—contemporary vs. traditional, romantic vs. classic, naturalistic vs. abstract. I decided years ago not to choose between the opposites, and instead I work to bring them together in a beautiful way."

The timeless adage to paint what you love rings true for Workman, who says simply, "I love an expansive landscape—the expanse of the West." The majority of his subject matter reflects this deep-rooted affection, and although he has traveled across the country and abroad, inspiration most often materializes within the vast natural area that surrounds his home in Spring City, UT, where he has lived with his wife, Laurel, and their five children for more than two decades. He feels a spiritual connection to this bucolic place, which he visited as a child with his father and photographed as a young artist seeking potential subject matter for his earliest paintings.

Growing up on a small farm in rural Utah, Workman was surrounded by the rugged, sprawling geography that today populates his paintings. He felt a bond with the land, along with a calling to draw and paint it, but like many other artists, he never considered fine art as a viable career path. He was fortunate to have talented, supportive teachers throughout grade school and high school, though, and continued his artistic pursuits into college, where he eventually declared fine art as his major. By the time he was finished with higher education, Workman had earned both undergraduate and graduate degrees from Brigham Young University.

Early in his career, Workman was employed as an architectural illustrator, and through the years he has continued to benefit from the technical skills and discipline he learned in the field of applied arts. "I go to work every day," he says, describing his life as a painter. He considers his art-making a "painful but joyous process" that demands passion along with tenacity, and he appreciates his time as an illustrator for teaching him to draw on that structure. "The work comes first, and then the inspiration. It's about plugging away until you unlock the magic."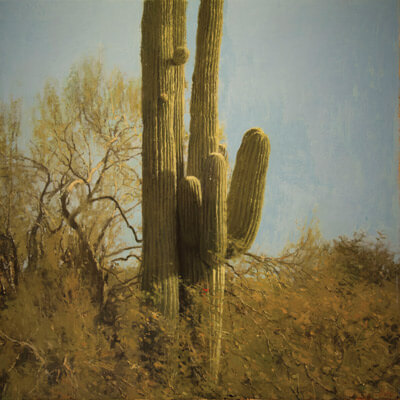 Workman's creative process is hands-on from beginning to end. He explains, "The process begins long before the actual painting." He takes great care to thoughtfully steer every aspect of the progression, from photographing his subject matter to mixing colors, painting, and then editing each composition. In this manner, Workman can ensure both the visual and structural integrity of his paintings, for which he stretches linen or muslin over plywood panels.

Workman's fresh, somewhat impressionistic paintings belie their initial look of spontaneity, in that the artist does not work en plein air. He likes to paint specific, sometimes fleeting moments in time, such as an especially vibrant sunset or the quiet stillness just before sunrise, but he finds trying to capture this type of subject matter on-site too hurried, even restrictive. He prefers a more measured approach and instead builds his compositions through a combination of photographs and memories of his experiences in the field. He then utilizes his studio not only as a place to paint but also as space in which to ponder the imminent artwork and get a feel for it as it emerges. "I love the controlled environment of the studio," he says. He notes that this method of working allows him to fully develop his ideas and do justice to the subject matter he so keenly respects.

Workman paints thoughtfully but instinctively, without preliminary drawings or sketches. He applies pigment in layers—painting, scraping, sanding, and then repainting—to build complex, sumptuous surfaces. Yet despite their considerable texture and evident brushwork, as a rule, Workman's canvases remain smooth. Thinly applied strata of paint and glaze fuse together to create a sense of depth that is further refined by a delicate sheen.

Working with a limited color palette, Workman has often been described as a tonalist. He explains that while he did not consciously set out to earn that label, ultimately he has found that a restrained palette allows him to achieve the placid, effervescent quality he wishes to extract from the paint. He starts with primary colors and mixes additional hues as he works, once again taking a hands-on, controlled approach to his art-making.

Through his paintings, Workman attempts to stimulate a dialogue with nature and its intrinsic, potent beauty. He invites viewers not only to gaze at the pigment, light, and imagery on the surface but also to absorb the energy that emanates from below. He seeks to convey the passion and excitement that result from realizing that the sum of the parts evokes the greatest emotional intensity. Workman creates this discourse as he composes each piece. It continues through his painting and editing process, persisting until the painting transcends his own vision and drives the process itself. This is the moment of creative catharsis for Workman, where the work directs its own course, unconstrained and free of his preconceptions. "The real magic starts to happen when the conversation is between you and the painting," says Workman, who strives to interact with his medium on a higher level, channeling his spirituality and approaching the sublime.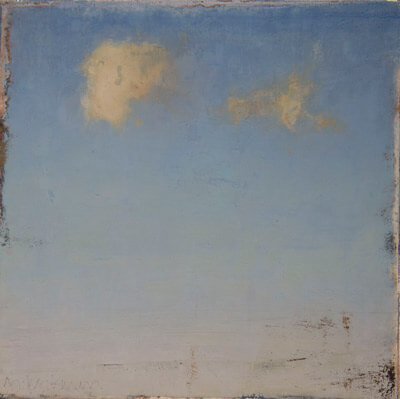 Recently, Workman has entered a transitional phase in his work, challenging himself to take his method of communicating truth and beauty to the next level. Recalling such contemporary masters as Mark Rothko, Richard Diebenkorn, and Gerhard Richter, Workman is beginning to deconstruct his surfaces, producing an increased sense of movement and energy and making the subject matter more universal. He has expanded his exploration of the ways abstraction can emphasize the formal, fundamental elements of the landscapes he paints. Several of his most recent compositions feature these variations, marked by a reduction of detail and spatial compression. Additionally, Workman is dissecting his backgrounds, revealing the canvas underneath and emphasizing the tactility and "objectness" of the painting.

Whatever visual changes Workman may choose to explore, the thematic threads running through his body of work remain constant: the pursuit of beauty in a culture that often overlooks or denies its presence. "My watchword is beauty," he explains. "It is not difficult to see that we live in a world that is full of turmoil. On the other hand, it is easy to be tempted by the cliché. Rather than choose between angst or picturesque beauty, I hope to offer a reminder that there is beauty in the ordinary. My statement is simple: There are still good things."


This article was originally published in Southwest Art magazine, who
owns all rights to this material. It is being posted here on behalf of the artist on whom the article is written.
SOURCE: Southwest Art - Beauty Still Exists
2016.05 / Ones to Watch: Spotlighting the work of painter Francis Di Fronzo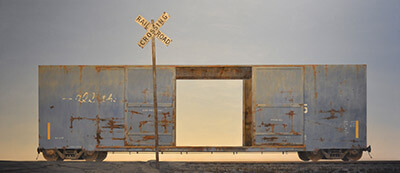 Im Abendrot (At Twilight), oil over watercolor and gouache on panel, 32 x 72
Francis Di Fronzo paints the line between truth and fiction. Using trompe l'oeil, a lifelike painting technique that translates to "tricking the eye," he portrays a convincing perspective of an imagined place. "I'd always been drawn to stark realism," Di Fronzo says. "I've stayed faithful to representing things realistically."
He started out painting mechanical things from junkyards in the trompe l'oeil style. When he switched to landscapes, about 10 years into his career, he used the same technique but invented the settings. "In my approach to painting a place, I wanted people to think that place was real. I imagined viewing the trees from the southeast and from the northwest, how they would change shapes when the perspective changed and how they would look in relation to each other. When people see these they think I'm painting an actual location."
To bring verisimilitude to his work, he relies on the paint itself. His process begins with a watercolor sketch on a wood panel. In some cases, the watercolors show through. "I do this intentionally because the watercolor has a fragile quality," Di Fronzo says. "If I'm painting an object that needs that fragility, I'll leave it. If I'm painting a wall of peeling paint, I'll actually peel the gouache — which does peel if you rub it — to convey this sense of realism. I use the physical qualities of the paint to represent the subjects."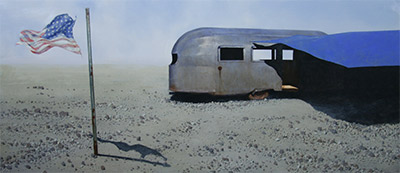 The Stand, oil over gouache and watercolor on panel, 25 x 56
After earning a master's degree from the Pennsylvania Academy of Fine Art, Di Fronzo returned to California. He became interested in Western history, particularly in the stories of people who migrated for gold, work or a better life but never found it. He found inspiration, for example, in the carved caves of Death Valley, where miners lived in a 5-by-6-foot cell during the rush to mine silver. He's uninterested in the nostalgic beauty of the land, instead he wants to paint the places "that leave behind the remnants of people's hope."
"I'm painting the West in a manner that is not romanticized in the way cowboys are romanticized," Di Fronzo says. "Very often you see ruins. When people came West to seek a better life, their dreams were broken."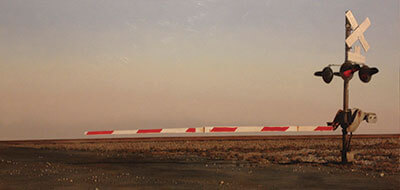 The Gate, part 5, oil over gouache and watercolor, 31 x 62
To paint imagery of forgotten railroads, Di Fronzo created models of train trestles spanning desert ravines so he could understand shadows and movement. "I love the idea of creating a fictional environment," he says. "And I'm fascinated with railroads. A lot of train tracks are abandoned but they still dominate the landscape. If I have a physical model I can rotate it to get that accuracy."
Realism is often journalistic. Its purpose is to replicate reality, but he finds these invented worlds to be more impactful. "When I paint from my imagination … it connects to something inside of me. When I [paint] from memory, I find I can connect with more people, because it's the kind of memory that stays with you," Di Fronzo says. "And that's what comes across in the paintings. Imagery exists individually, but there's a commonality that connects all of us."


Western Art & Architecture, April / May 2016
Ones to Watch: Spotlighting the work of painter Francis Di Fronzo
Written by Michele Corriel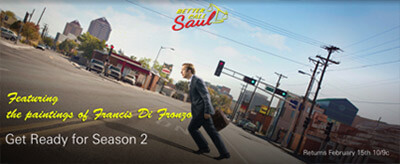 Better Call Saul spotlights the art of Francis Di Fronzo
Francis Di Fronzo receives national attention as featured artist in popular series for television "Better Call Saul" with his distinctive paintings that provide an uncomfortable mix of nostalgia and lamentation of the post-industrial American landscape.

Francis Di Fronzo's pensive, often ominous paintings are rife with both unseen and deeply felt forces: seemingly paradoxical impulses that are integral to his work. Though quite a few of Di Fronzo's paintings contain recognizably western elements, he's just as influenced by the east coast as the west. Born in California, Di Fronzo received his BFA at the University of California, Fullerton, before moving to Philadelphia to attain a Master's degree at the Pennsylvania Academy of the Fine Arts.

About Better Call Saul

Better Call Saul is an American television crime drama series created by Vince Gilligan and Peter Gould. It is a spin-off prequel of Breaking Bad, which was also created by Gilligan. Set in 2002, Better Call Saul follows the story of small-time lawyer James Morgan "Jimmy" McGill (Bob Odenkirk), six years before his appearance on Breaking Bad as Saul Goodman; events after the original series are briefly explored.

The first season, which premiered on AMC on February 8, 2015, consists of 10 episodes. The show's 10-episode second season premiered on February 15, 2016. On March 15, 2016, the series was renewed for a 10-episode third season.

Like its predecessor, Better Call Saul has received critical acclaim. It has garnered several nominations, including seven Primetime Emmy Awards, three Writers Guild of America Awards, two Critics' Choice Television Awards, a Screen Actors Guild Award and a Golden Globe Award. The series premiere held the record for the highest-rated scripted series premiere in basic cable history at the time of its airing.
Javier Marín: Terra, Corpus
November 19, 2015 is the opening of Javier Marín: Terra, Corpus, an exhibition set at the Antiguo Colegio de San Ildefonso that will show 49 pieces that reviews the artist's vision on human figure. It will feature artwork that has never been exhibited in Mexico. Here the public can view the work at the local and international scene, get closer to the creative process and trends that the artist has developed along his career. The exhibition will be on display until March 20, 2016.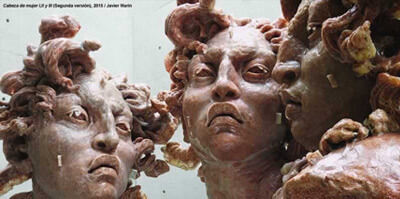 Javier Marin. Corpus, curated by Maestro Ery Camara, Exhibition Coordinator San Ildefonso College, takes the concept of the process as a discursive axis. From this approach, the exposition invites the viewer to stop to look not only at the finished work, but at the intermediate steps between conception and realization thereof; aspects that reveal the technique, the use of different materials and, above all, the idea of the artist. The intrinsic characteristics of his work make it unique.
Javier Marin disregards any attempt to represent or imitate and thus achieves works in which the "beauty of imperfection" looks.
Javier Marín. Terra, Matter as an Idea.
The National Bank of Mexico through Fomento Cultural Banamex, the Javier Marín and Vacant Land Foundation present the exhibition Javier Marín, Terra, Matter as an Idea. The exhibition will be on display at the Palacio de Iturbide, opening on October 15, 2015, until January 17, 2016.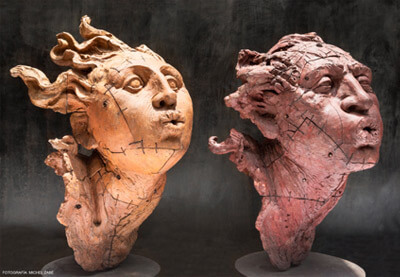 The exhibition aims to bring visitors to the sculptor's work since its materiality, understood as a concept, as a central idea in his artistic production, this, mostly, because it is three-dimensional sculptures.
The pieces physically occupy a space that is its most obvious and expressive content. Hence its monumentality, the texture of the fragmented bodies, the exaggerated features of the heads, attract the viewer's eye to the work of this visual artist and, often it stops there.
Off the grid at Winterburn / Lynn Boggess
Boggess Studio Visit by Lauren Adams

I don't know how everyone else feels, but this summer seemingly zipped by for me! After traipsing around NYC with friends for our short summer vacation (the new Whitney was really great!), Derek and I happily accepted an invitation down to Summersville, WV to visit our favorite professors from college.
Jennifer and Lynn Boggess are extraordinary painters who are building an equally extraordinary off-the-grid studio on their lush, wild acreage in West Virginia. Winterburn (its official name - how cool is that?) is not fully completed yet, but wow, is it stunning, being every bit a dream studio. The space is simple and clean, with unending windows that provide views out into the forest. The artists were considering adding a living space, but in the end, decided it would be a painting-only zone. The studio has zero distractions, unless you would count the large fireplace. I can't stop imagining what it would be like to take a break from your work and settling in on the couch with a fire going, watching snow blowing through the trees. Or even late fall when the leaves are changing and drifting down to carpet the grounds. Another aspect I love most is the huge-yet-still-covered open air space that can be used as a carport or painting area - such a good idea. Enjoy the tour!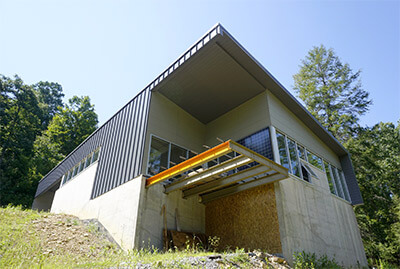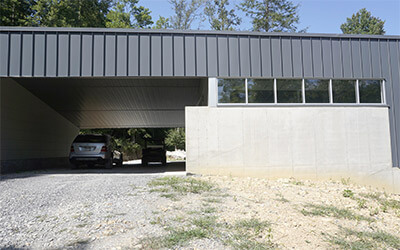 Carport that can also be used to paint under. Love!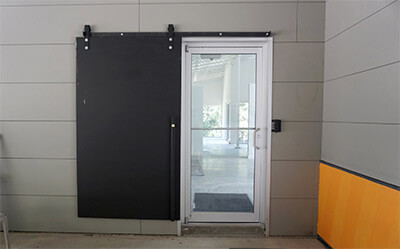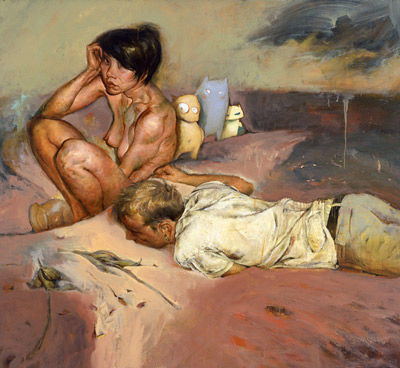 His core strength that carries throughout all his works—whether graphic novel, oil painting or graphite drawing—is the delicate yet uncomfortable balance in playing with highly representational elements and abstracted aspects to find a tangible place for the human experience to live in and be absorbed perfectly. Though his work has evolved and morphed into different series and styles over the past 20+ years, Williams' work has a very specific quality that is unmatched.

Williams has been an inker, a colorist and an illustrator for hundreds of comic books since the early 1980s, including Hellblazer, The Sandman, Akira, X-Men, Batman, Wolverine, Vertigo, and other Marvel and DC comic books. His comic creations are unique and expressive, and feels like fine at, regardless of the form it comes in. Some of his more notable graphic novels include the 2005 novel The Fountain with Darren Aronofsky, Blood: A Tale with J.M. DeMatteis and Tell Me, Dark from 1992 with Karl Edward Wagner and John Ney Rieber. The influence of the graphic style of his work onto his fine art has become more apparent in recent years, with his most recent works finding an interesting space between expression and representation.

Williams says he is fascinated by artists like Willem de Kooning and Gerhard Richter. de Kooning for his intelligence, depth and compositional sensibilities and Richter for his breadth of disparateness throughout his career. The visceral quality of his process is visible in each piece. Standing in front of one of Williams' paintings, the viewer is transported to a seemingly real moment, inside the painting itself. The movement and significance of every brush stroke, every line, every dot or dollop of color, pushes and pulls the viewer to a place of understanding, of experience; the kind of quality you see when you are standing in front of a Van Gogh or a Mark Rothko.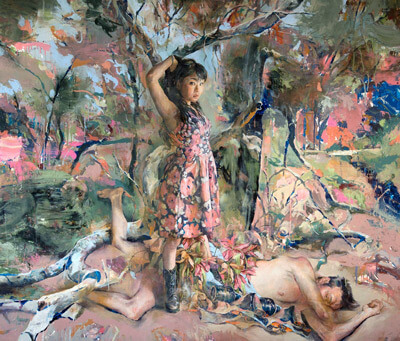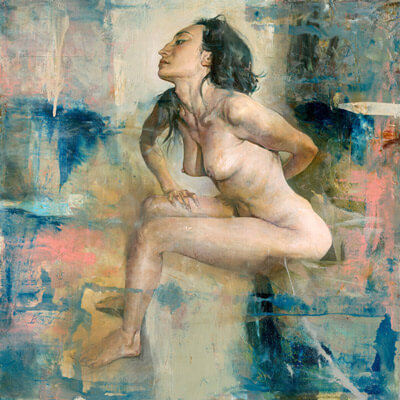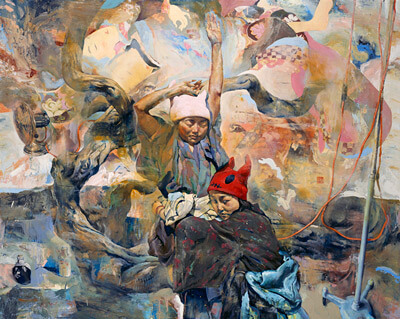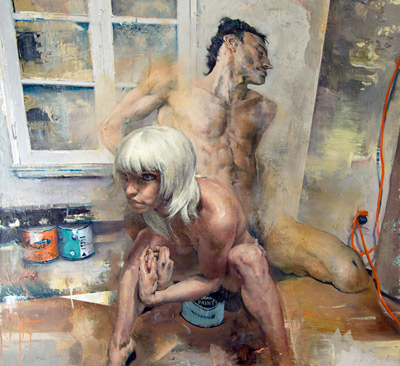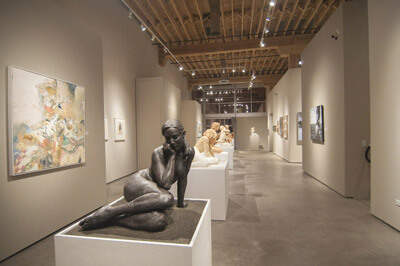 Figurative sculptor, Kristine Poole gives new meaning to the words "body language" with an exhibition of figures wrapped with the words of sociocultural themes. Her sensitive sculptural approach to the figure allowing the inner emotional landscape to be revealed through the external forms of the body.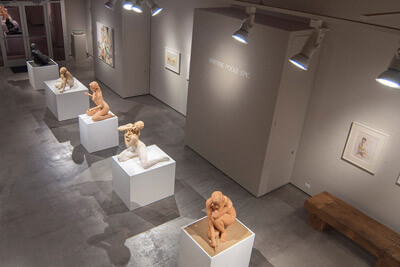 Contrasting classically rendered figures with contemporary motifs and surface treatments, she frequently juxtaposes body language, posture and attitude with text, layering the strength of gesture with the power words have convey, create and define reality and experience.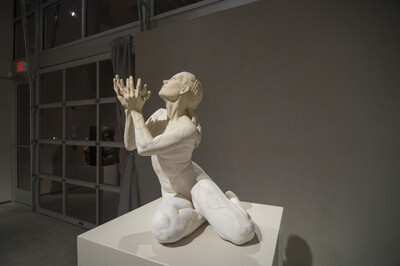 "Originally, I began writing on my sculptures to show the powerful potential words have to define and even create realities -- what other people say to us and about us can have a dramatic impact on our views and experience in life," says Poole.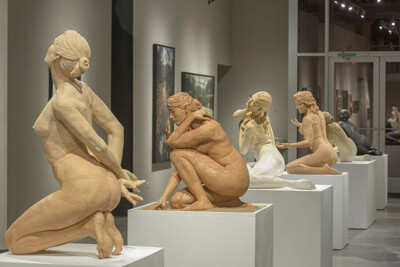 "Layering text on a figure creates an intriguing dichotomy. We respond instinctively and viscerally to the 'body language' -- the posture and pose in a figurative sculpture -- and more intellectually to the written word. I find that my mind flips back and forth between the visual imagery and being engaged in what the words say, expanding my understanding of the piece. The words themselves, emphasized by the planes of the body, create a pattern and texture as unique as the cadence of someone's speech patterns."


Republished from The Daily Beast

An Artist Explores the Complicated Relationship Between Women and Food
By Erin Cunningham

Many women have a complicated relationship with food, a situation artist Lee Price knows well. In her new series of work, Price explores emotional eating using herself as her subject.:
New York-based portrait artist Lee Price is fascinated with the relationship between women and food. In a series that has taken over seven years to produce, Price features herself as the subject (with the exception of two images, one with her mother, one with a friend) gorging on bags of Cheetos, boxes of sweets, and pints of ice cream in very solitary, almost obscure locations including one's bed or bathroom (think Lena Dunham eating a cupcake in the bathtub a la Girls season two). Unlike Dunham's performance, however, Price's paintings are neither derived from nor aimed at producing humor. They're based on very real eating disorders (which Price herself has suffered from in the past), and explore the obsession—and sometimes compulsive relationship—many women have with food.

Q1: When did you start working on this series of women and food?

That series started probably about six or seven years ago. I had always—even when I was back in college at an all-women's school—focused on women and strange environments with women with food all around; things that didn't make a lot of sense, like somebody holding a bunch of carrots for absolutely no reason. For this particular series, I wasn't consciously thinking, "Oh, I'm going to make some statement about women and food." I was actually working on—I always paint from photographs—a kind-of Alice in Wonderland-type thing where there were tea, cookies, and desserts in the foreground, and I was in the background in a floral dress asleep on a big wingback chair. And I was looking at the images and it wasn't working—so I got this antique tablecloth and threw it on the floor. I threw all the food on the floor and I had a friend of mine get up on a ladder and photograph me lying in the middle of it.

That was the first painting I did in this series. It was called "Full." There was something about that that really struck me as something I wanted to continue to explore. I didn't completely understand what it was about, but I continued on with that thing and then it became more conscious. I like that people interpret it in their own ways, but to me, I'm painting about compulsive activity. I'm painting about, specifically, compulsive or emotional eating. I'm painting about how people check out, how people reach for things because–I think it's in our nature.

Q2: Why did you use yourself as the subject? Is this relationship something you relate to?

Yeah. It took so long for me to connect with what I was doing, but I did have a history of eating disorders. I mean, I'm 47 now, so it was long ago. But in my teens and in my 20s, I had—I wouldn't say severe—but I grappled with eating disorders. And still, whatever 20-some years later, it's still where I go—when I'm having difficulties in my life that's still how I deal with things. Not to the severity that it was, but, you know, I grab a pint of Haagen Dazs without thinking. I don't know if it's just how I'm interpreting the pieces, but I feel like there is a bit of shame, but also a bit of pleasure and joy.

You know, I think there are different degrees of things happening in different paintings. I also think that people look at them and interpret them in different ways. I know shame gets used a lot with my work, and I don't like that word. I don't relate to it that way.

Q3: Is there a different way that you would describe it?

I would describe it as compulsive, as secretive. But I feel like it's a person trying to soothe themself. It's like trying to nurse yourself but not doing it in a way that is actually helpful. Again, I'm not sure why shaming—I think maybe the use of the word: when women do it, it's shameful, but when men do it, it's compulsive. Take away the eating and it could be anything—drinking, surfing the net, any behavior you're using to check out.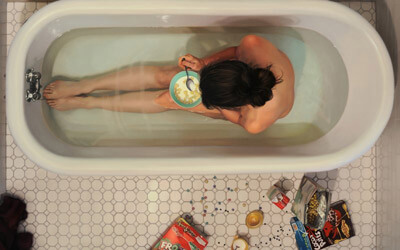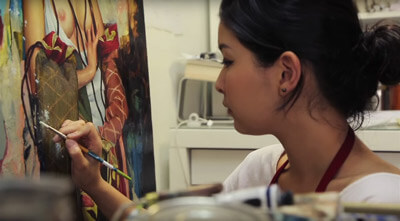 Wide Walls goes on to write that "The contemporary art scene in the United States is highly diverse comprised of established multitalented artists as well as fearless young creatives bursting with new ideas and visions. California-based and Korean-born Soey Milk is one of the young artists who has already made a name for herself not only in the United States but in the international art world."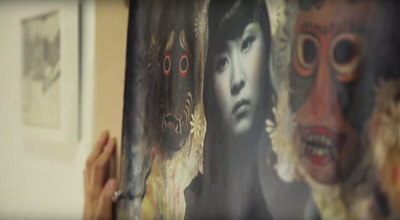 In the summer of 2014, the prolific filmmaker Eric Minh Swenson made a sweet little short about Soey entitled "Soey Milk: Beloved." The video offers a behind-the-scenes look into her studio as she is working on a piece of art. Enjoy!